Commercial Flooring Contractors Derby
Commercial Flooring Contractors Derby
Forester Flooring Co is a specialist commercial flooring business with over 20 years experience, and we cover surrounding areas across the East Midlands.
Derby and Derbyshire
Derbyshire is in the East Midlands and a large part of the county is home to the Peak District National Park. The City of Derby has a population of over a quarter of a million people whereas the largest town in Derbyshire is Chesterfield, with a population of over 100,000.
The city is proud to boast of its engineering status hosting the offices of Derby and Hucknall branches of Rolls Royce and the University of Derby is on Kedleston Road.
Derby and Chesterfield provide us with a lot of our commercial flooring enquiries, so we have a big soft spot for these areas and always look forward to visiting commercial buildings and meeting new people in Derbyshire to measure up and quote for contract flooring projects.
Installation and Services
As specialist commercial flooring contractors, we guarantee to only use our experienced commercial installation teams, who are all fully insured and experts in their field. They are all trained to an exceptional standard in their floor-laying skills, whether they need to install carpet, carpeting, vinyl flooring, vinyl tiles, LVTs or safety flooring. A lot of attention is also given to customer service training and Health & Safety processes.
You can feel comfortable and assured that all our teams are professional tradespeople who will treat you and your premises with thoughtfulness and respect.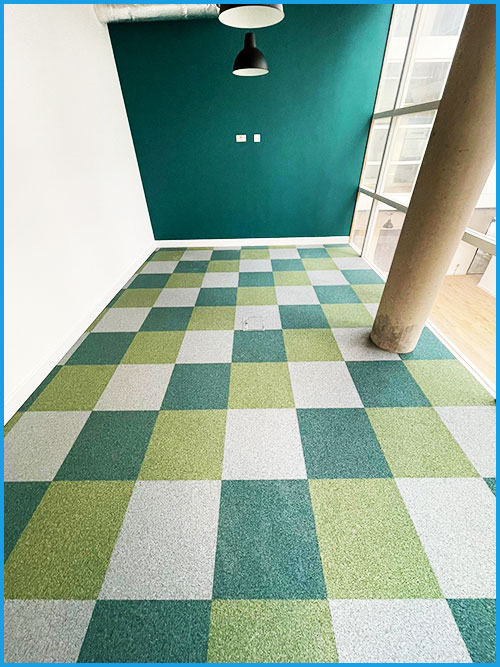 Based in Nottingham
Teams from across the Midlands
Very happy to work UK-wide
3rd generation family business
Plan to cause minimum disruption
Every job personally run by a Director
And peace of mind – guaranteed!
Project Management
We offer a project management system that beats all others (in our opinion)! A director with years of contract flooring experience will oversee and manage every commercial flooring project to ensure that all installations run smoothly and on time, whilst keeping an eye on the budgets.
Our professional commercial flooring business has been able to expand and grow because we pay attention to every detail to make sure that every customer and client ends up with flooring of a quality they are pleased to show to their own customers and clients.
Word of mouth referrals and retaining customers and clients is how we've managed to keep our business growing, with no big advertising spend, which also means our quotes can stay competitive. Everyone's a winner and we promise we will work hard to make sure you are happy to come back to us for further projects and also happy to recommend us to others.
Flooring and Floorcoverings
The quality of the product that's being laid on the floor is just as important as the skill of the floor-laying professional. Quality flooring and floorcoverings can make all the difference to the look of the finished job and whether you want carpets, carpeting, carpet tiles, vinyl flooring or LVTs, you need to choose the best quality flooring and floorcoverings you can.
As specialist commercial flooring contractors, helping clients and customers choose the right flooring and floorcoverings for their premises is a big part of our job. We take the uncertainty out of the choice and only recommend flooring products that will last and still look good. The first two questions we usually ask are:
"How busy is the space" and "How long do you want your new flooring to last?" That's a good starting point and we can all go on from there.
Customers and Clients
The vast majority of our customers and clients have chosen to use us because we have been recommended by another customer and have been told that we are experienced specialists.
And as a specialist commercial flooring business, our reputation means everything to us. That's our guarantee to all our customers and clients, we will always do our very best work to preserve our good name.
Here's what a few of our customers have to say:
​"The team completed an excellent job as always! Thanks."
"They are very efficient and the installations are always completed to a high standard. We would highly recommend this company."
"We have used Forester Flooring Co for many years and they have always provided a first class service, great value for money and the work is always carried out to an excellent standard."
See our Google Reviews page for lots of similar reviews.
Get in Touch
If you need any type of commercial flooring installing in any type of commercial premises, please don't hesitate to send a quick email or pick up the phone. As soon as you do that, the wheels are in motion and as a specialist commercial flooring business, we'll be able to help and advise. Even if you're not ready for the work to be done yet.
Or you could always come and see us in our offices or showroom. The kettle is always on!
What are the disadvantages of vinyl flooring?
Commercial vinyl flooring must be installed onto a completely flat, smooth surface. Because vinyl is typically only 2mm thick any imperfections in the sub floor can show through, so the sub floor preparation needs to be done properly and can be expensive. Sheet vinyl cannot easily be repaired and can be difficult to remove. Vinyl's appearance may fade over time.
Which is more expensive vinyl or laminate flooring?
The price of both varies dependent upon quality. Installation costs are higher with vinyl since the sub floor must be prepared properly. This involves screeding a concrete floor, or over boarding a wooden sub floor with flooring grade plywood. Concrete slabs must be checked for moisture and a damp proof membrane installed if moisture is present. Thicker laminate products will ride over slight imperfections in the sub floor, possibly avoiding expensive preparation work, although any damp issues will need to be remedied the same as for vinyl flooring.
What is the best flooring for the money?
Whilst cost is a consideration, it is important to choose the correct commercial floor for your premises. Once you have established exactly what it is that you require from your floor covering you can then look at the associated costs and compare them.
What is the most scratch-resistant flooring?
All commercial floor finishes will suffer scratch damage if due care is not taken to protect the floor when moving furniture. In general, any commercial floor covering will resist scratches, but all are capable of being marked. The best floors for scratch resistance are porcelain, bamboo, concrete, solid and engineered wood, laminate. Non-laminate wooden floors can be sanded and re-finished.
What is the best flooring for heavy traffic?
Most types of floor finish are suitable for heavy traffic providing you select a robust version of your chosen flooring. Some carpet tiles will not last twelve months in a busy office, but we sell a tile for just £2.95 that has a fifteen-year commercial wear warranty. Along with the durability of the product the maintenance regime must also be considered, we see many floors that look dreadful but have not been down that long – they are filthy rather than worn out. Your floor covering is an investment that must be protected and maintained to achieve its full potential over an extended life on the floor.
Do dark floors make a room look smaller or bigger?
Dark floors tend to make a room look smaller, but a dark colour hides marks better. The effect a dark floor creates may be countered by clever lighting and light wall coverings. The floor finish should be considered alongside wall finishes and displays – the floor should not detract from whatever is being sold.