Commercial Flooring Contractors Leicester
Commercial Flooring Contractors Leicester
Forester Flooring Co is a specialist commercial flooring contractor with over 20 years of experience, based in Nottingham and covering the East Midlands, particularly Leicester, Derby and Sheffield.
Leicester/Leicestershire
Leicestershire is home to more than a million people but as more than half live in the Leicester urban area, there is a lot of open countryside and outdoor space within the county for everyone to enjoy with their friends and family.
From a commercial point of view, Leicestershire is served well with great transport links and is a thriving county with opportunities for business growth. The Highcross Leicester shopping centre is a state-of-the-art shopping complex. In the field of science, there is the National Space Centre on Exploration Drive, which attracts many young visitors. Some of our biggest flooring customers have been in Leicester and we feel we have a special bond with the city and the wider county of Leicestershire.
Customers and Clients
​Reassuring all potential customers and clients that we are a professional commercial flooring business is not always easy. No company wants to take a risk by trying out a new firm, it's always easier to stick with who you know.
But we offer so much more than other commercial flooring contractors. Whether we're working on big or small contracts, our existing customers and clients know us and trust us to do what we say we'll do. They also know that we'll always go the extra mile with our levels of service and promise never to leave a job until they're totally happy.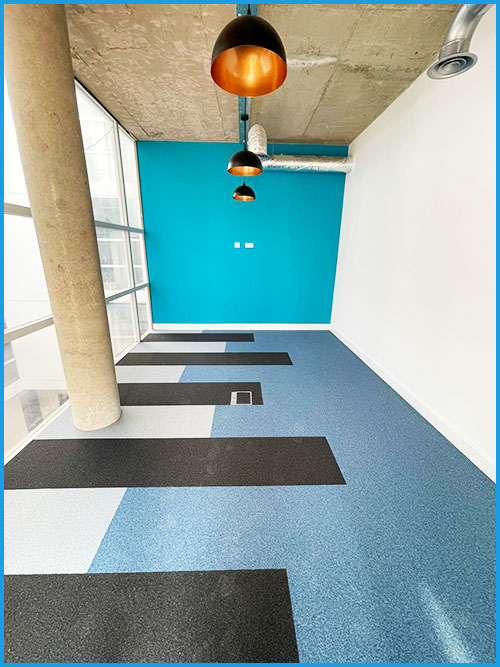 Based in Nottingham
Teams from across the Midlands
Very happy to work UK-wide
3rd generation family business
Plan to cause minimum disruption
Every job personally run by a Director
And peace of mind – guaranteed!
Flooring and Floorcoverings
Forester Flooring Co can supply and professionally install all types of quality flooring and floorcoverings to a very high standard. We specialise in supplying all top quality flooring products into all types of commercial buildings and these include carpets, carpeting, carpet tiles, vinyl flooring, vinyl tiles and LVTs.
We'll happily offer suggestions which products will stand up to the footfall in your building if you're not totally sure which floorcoverings would be most suitable, so don't worry about being overwhelmed with the job of choosing your new flooring. We'll make it a lot easier than you think.
Professional Commercial Flooring Business
By taking a professional approach to our commercial flooring business we know that you will be impressed with the way we work, the quality of our work and our commitment to customer service.
We are also committed to growing our business and know that the most successful way to do that is to retain clients, so we guarantee that we will be working especially hard to exceed your highest expectations. And we also know how important a word of mouth recommendation is to a business, so we will be keeping an eye on every step of your customer journey with us, to make sure that you feel happy to recommend us if ever the occasion arises.
Project Management
On every project we guarantee to only ever use the best installation teams (who are all insured and fully trained), only top quality flooring products (whether you choose carpets, carpet tiles, vinyl flooring or vinyl tiles) and one of our directors will oversee each installation. This personal level of project management is why our reputation is growing so fast as experts in the specialist world of commercial flooring contractors.
So, if you need to install new flooring into any commercial premises, just email or phone to let us know how we can help. You won't regret it, we promise.