Commercial Flooring Contractors Sheffield
Commercial Flooring Contractors Sheffield
Forester Flooring Co is a long established commercial flooring business, employing specialist flooring professionals and contractors, based in Nottingham. We regularly work throughout the East Midlands but especially in Sheffield and are fast becoming known as "Sheffield's premier flooring company".
Sheffield/South Yorkshire
Sheffield is a vibrant and diverse city in South Yorkshire, home to over half a million people. The nearby countryside is made up of rocky ridges and moorland as it forms part of the Peak District National Park.
As it is such a thriving area, new commercial flooring contracts are always being planned and we are very happy to travel and discuss any replacement floors, whether the new projects are for carpets, carpet tiles or LVTs and other vinyls.
Professional Installations
The construction industry sometimes earns itself a bad reputation by cutting costs and doing shoddy work. But because we are all specialists at Forester Flooring Co., with experience and skills acquired over many years, you can be assured of a professional installation using quality flooring products and highly trained floor-laying professionals.
We are used to working on construction sites, so working alongside and liaising with other trades but still creating the type of top quality flooring you'll be thrilled with, will never be a problem when you team up with us. You can rely on us to be professional at all times and just get on with the job.
Installing the most suitable and cost effective carpets, carpeting, carpet tiles, vinyls and LVTs is a priority and we will make recommendations to help you make the right choice.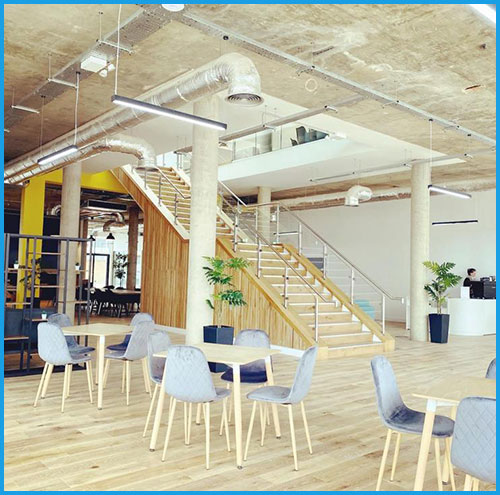 Based in Nottingham
Teams from across the Midlands
Very happy to work UK-wide
3rd generation family business
Plan to cause minimum disruption
Every job personally run by a Director
And peace of mind – guaranteed!
Project Management
Well thought-out and carefully planned project management processes are what sets us apart from our competitors. One of our directors will project manage the whole job from the very beginning to the very end, and only sign off, when you are completely happy with everything. You will have one main point of contact and you will know that you are dealing with experienced contract flooring professionals who have experience and skills honed over many years.
All our contract flooring teams have been trained to appreciate all the latest health and safety regulations and recommendations. We also document all our risk assessments and liaise with you over any health and safety concerns.
Installing contract flooring can be a fraught and disruptive process with the wrong team in charge, but do rest assured that we will do everything possible to minimise that disruption and keep every situation calm.
We regularly install flooring into offices, other commercial buildings, shops, nursing homes, schools, children's day nurseries, medical facilities and all types of hospitality venues, so whatever the type of flooring, in whatever the type of commercial premises, we will be able to help you.
Customers and Clients
We are so proud of our reputation, we won't do anything to risk our good name. So you can be assured of our very best intentions and work at all times, have a quick look at what some previous contract flooring customers have said about us:
"Each and every time they have been excellent. The workmanship is second to none, installation is quick and to an exceptionally high standard."
"Very professional and punctual, very reasonably priced and happy with the overall works they undertook. Will definitely use again."
"We have used this company on many occasions over the years for installing safety flooring. They are very efficient and the installations are always completed to a high standard. We would highly recommend this company."
See all our other smashing reviews on our 'See our Work' page.
Why not get in touch
Just a quick email or a quick phone call is all it takes to get professional advice about your next commercial flooring project. We're always happy to talk things over, with no obligation whatsoever.
So just pick up the phone and tell us how we can help you.